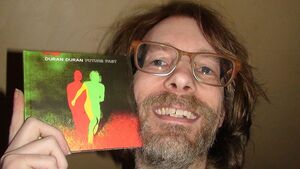 Photo of me, taken: 22/10/2021
About me
[
]
Im Dan, also known as More Play Time on the DD Proboards Forum.
I've been a fan of the band since I can remember. I heard the songs from Rio on the radio growing up. The first think I bought with my first paper-round money was the Rio album on CD. Yes it was late into the 1980s that I had the money to actually look into buying stuff. I then bought Seven and the Ragged Tiger, Big Thing, DD, Notorious and then TWA. Each Saturday I would walk the miles into town, just to flip through the albums in Our Price record store.
I graduated from high school in 1992, and from from 1993 until 1997, I was hooked. At that time, all of the old 1980s record stores were closing down, and it was possible to find lots of old records going cheap. I started up my 7" singles collection with My Own Way - a scratchy worn out record I found in a pile of singles in a shop on the corner of my row of houses. It was just begging me to buy it. This lead to a singles hunt; tracking down all the songs I had missed. Union of the Snake backed with Secret Oktober was the second 7" single I bought, and then it was a slippery slope.
By 1995 I was a Youth Training student on Maggie Thatchers new Youth Enterprise initiative, which was bringing in £25 a week, plus as much free I.T training as I could want. I saw Thank You as a cassette in my local Readies (Reedys?) store, and walked away thinking the cover looked a big naff. Sure enough, the next day I had to go back and buy it. I Wanna Take You Highter had a tape-stretch sound effect in it, so for years I thought my tape was stretched. The shock of a really boring album didnt stop me, and I remember how excited I was finding the Advanced CD of Out Of My Mind at a Record Fair in Manchester.
By this time, I was travelling to reach high class places, to find rare items, up to £75 each. I didnt care. I wanted the 'Mint' pressings - no stratches or defects from the time it was pressed. I kept everything is dust jackets and thick plastic steeves to keep all the material as clean as possible. I found a source for mint Japanese sealed 12" specials, like Carnival EP - which was as fresh as the day it was made, still sealed, and with the label in japanese as a band around the whole product. I carefully slipped a knife over the edge of the sleeve, just so I could get the record out and play it, and then carefully place it back inside. The buzz and the excitement came from having the item, looking at the artwork and photos, smelling that fresh clean vinyl smell. It was like being handed a whole new world of magic with each rare and unique find! Of course I tracked down a rare promo of Medazzaland.
What was it about the music and the band which was so attractive?
This is a question many fans will say the same of any band. They 'spoke to me'. I wanted to break out of the norms of society and play Kate Bush and Hawkwind. There was an escapism that was fulfilled because of the depth and mystique of most of the songs. But it was more than that. The band were all stunningly attractive looking to both men and women. They were always zany and mucking about - they always made me laugh when I saw them on TV shows and when the internet came around, on YouTube. The music was great, the lyrics were great, the people were great, and the fans - well - they come in all shapes and sizes.
I have questioned my sexuality, after realising I was into all the 80s bands, with the hair and make up. But in the end it lead to me realising I was a masculine male, and only slightly effeminate, and that I was into Women and not into men at all. This was a healthy stage in my development.
I bought the scarves and the pin-badges and the rare video cassette bootlegs. I had the T-shirts and the rare black and white hand printed Fanzines to prove it. I'd say my collection was worth £10,000 today, but back around the year 2000, I decided to sell all of my collection to pay for a house move (which never happened), and I got about £1,500 for the lot. The only things I kept were my Seven and the Ragged Tiger CD I bought as my second music purchase ever, and also TWA on both CD and 12". There are a couple of CD singles as well; including TMI. I wish I had kept my Japanese 3" CD singles of None Of The Above - they were so neat in their small square packages.
I lost touch with the band after that, and yet I occasionally played the Feelings R Good album by JT, as I was really in to heavy rock at that time. I dont know when I came back to the band. I remember seeing the classic lineup on the UKs Jonathan Ross show - a show now sadly not on youtube. I remember thinking 'I remember them, they used to be my favourite band in the world!.'
I know I've been hanging around the unofficial forum since at least All You Need Is Now, so I'd say at least 10 years or so. I was one of the very, very, very, very lucky ones to hear Paper Gods the week before its official release; having already pre-ordered the limited edition CD. So this is now on my shelf with the others; still mostly sealed of course, only with a thin opening in the plastic for me to slide the package out and look at it.
-- I have a youtube channel where you can find mostly DD related stuff. It started out as my personal channel but DD just seems to have taken over. I recently made a Medazzaland Live Re-imagined album, a Thank You Live Re-imagined album, a Thanks Again Thank You Reimagined album. Also Laughing with Duran Duran The Movie on youtube.
Recently I've been hammering away at the timelines on this wiki, adding clips from youtube, and colourising the years so we can quickly find the releases, the shows, the relationships, and the mad 'Duran Duran' moments, which are listed now in Gold. Its taken a couple of months to add events and interviews from some of the most important years, but it will take much longer to go through and update 40 years worth of info. My biggest hope is that such a complete history online would prompt Nick, Simon, Roger, even Warren to write their autobiographies.
My favorite pages
[
]