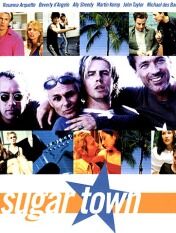 Sugar Town is a 1999 independent film starring Duran Duran bassist John Taylor, written and directed by Allison Anders and Kurt Voss. The plot involves a tangled web of characters coping with ambition, fame, and the aftermath of fame. The film was named after the 1966 hit single "Sugar Town" by Nancy Sinatra.
Anders was eager to make another film about the music industry after her earlier films Border Radio and Grace of My Heart. She had been friends with John Taylor of Duran Duran for many years. When she heard he had left Duran Duran in 1997, she asked him to act in a movie. Once he and some other musical friends had agreed, she and Voss wrote the film fairly quickly.
The film premiered at the Sundance Film Festival on January 26, 1999, where it received a distribution deal with October Films and USA Films. Sugar Town was then shown in limited release in the United States starting September 17, 1999, before appearing at several overseas film festivals.
Plot summary
[
]
Real rock stars play the roles of Clive (John Taylor), Jonesey (Martin Kemp), and Nick (Michael Des Barres), who form an aging supergroup built of refugees from other bands. They and their producer Burt seek backing from Jane (Beverly D'Angelo), a rich investor who will only help if the singer will sleep with her.
Clive's wife Eva (Rosanna Arquette) is an older actress who is struggling to get good roles. Clive and Eva's life is thrown into upheaval when a cult member shows up on their doorstep to drop off a surly 12-year old "love child" that she claims Clive fathered.
Eva's best friend Liz (Ally Sheedy) is a neurotic film production designer who has just hired a conniving young housekeeper and would-be singer named Gwen (Jade Gordon). Liz searches hopelessly for a decent man while Gwen commits acts of shameless cruelty in the service of her ambition, eventually hooking up with the band's producer Burt.
A subplot involves guitarist Carl (John Doe), who is hired to travel away from his pregnant wife (Lucinda Jenney) by a singer with ulterior motives (Lumi Cavazos), just as his junkie brother emerges from rehab and comes to stay with the family. This is loosely connected to the other stories by Carl's connection to Burt, and the brother's drug connection with Jonesey.
External links
[
]