This article covers only those aspects of the subject that are related to the career of Duran Duran.
A much more complete treatment can be seen in the
Milo O'Shea
article at Wikipedia.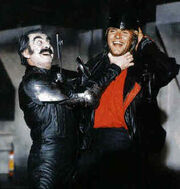 Milo O'Shea (born 2 June 1926, in Dublin- 2 April 2013, Manhattan, New York) was an Irish character actor, recognizable for his bushy eyebrows, resounding voice and impish smile.
He starred as the villainous Dr. Durand Durand in Roger Vadim's 1968 counterculture classic Barbarella, from which the band Duran Duran took their name.
O'Shea reprised his role as Durand Durand in the 1984 Duran Duran concert/concept film Arena (An Absurd Notion).
O'Shea died on April 2nd after a short illness in Manhattan, New York, United States.
External links
Edit