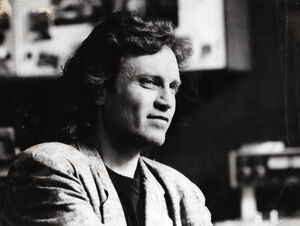 Alex Sadkin
(c.
1952
-
1987
) is best remembered as a record producer in the early 1980s, but actually got his start as a saxophonist for the
Las Olas Brass
. He was first trained as a mastering engineer but eventually moved into recording studio work as a "tape-op" (Assistant Engineer) at Criteria Studios, in Miami, Florida. Sadkin got his break after impressing
Neil Young
with his mixing ability, and he eventually became head engineer at Compass Point Studio in Nassau, Bahamas, working alongside Island Records boss Chris Blackwell on many of the label's projects (most famously with
Bob Marley
).
He then began producing artists for Island Records (Grace Jones, Marianne Faithful, Robert Palmer, Joe Cocker) whilst doing mixing work for other labels (Talking Heads). Among the artists he produced in the 1980s are Joe Cocker, James Brown, the J. Geils Band, Thompson Twins, Foreigner, Duran Duran, Simply Red, Arcadia and Paul Haig. He was a mentor to engineer and producer Phil Thornalley (The Cure, Johnny Hates Jazz, Natalie Imbruglia).
Sadkin died in a motor accident in Nassau at the age of 35, shortly after completing production work on Boom Crash Opera's eponymous 1987 album, and just before he was due to begin working with Ziggy Marley. The Duran Duran song "Do You Believe In Shame?" is dedicated to his memory.
Selected production credits
Edit
Robbie Nevil - Robbie Nevil (1986)
Bob Marley and The Wailers - Survival (1979)
Grace Jones - Warm Leatherette (1980)
Thompson Twins - Quick Step And Side Kick (1983)
Thompson Twins - Into The Gap (1984)
Duran Duran - Seven and the Ragged Tiger (1983)
Paul Haig - Rhythm Of Life (1983)
Talking Heads - Speaking In Tongues (1983) [mixing only]
Foreigner - Agent Provocateur (1984)
Arcadia - So Red The Rose (1985)
Boom Crash Opera - Boom Crash Opera (1987)